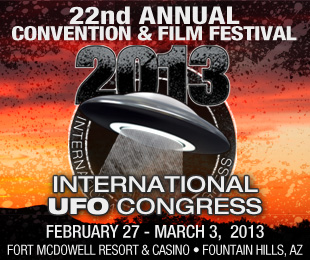 23rd Aug 2012
|
by:
Admin

Last Chance! Get the super-early bird discount to hear from renowned researchers, doctors, authors and television personalities at the International UFO Congress on Feb. 26 – Mar. 3, 2013, in Fountain Hills, Arizona. Ticket prices will go up on September 1, 2012.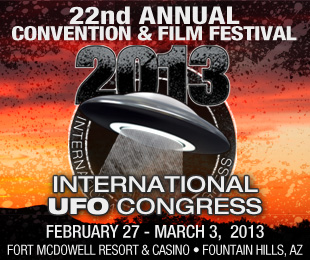 The International UFO Congress is the largest annual conference on UFOs and extraterrestrial life in the United States. With over 20 speakers, a film festival, parties, skywatching, vendors and experiencer sessions, this event offers a little bit for everyone.
This conference isn't just for UFO enthusiasts; everyone is encouraged to come hear from these seasoned professionals on what might be one of the greatest mysteries of our time. The diverse and still growing line-up includes Jason Martell and David Hatcher Childress from History Channel's Ancient Aliens, Marc D'Antonio, a movie and television special effects and models professional, as well as Dr. Roger Leir who specializes in alleged alien implant removals.
"Every year we've seen an increase in the public's interest on this subject. We're putting together a program which highlights various aspects of the phenomenon in order to provide an opportunity for everyone to increase their awareness with what is going on around them as well as in the greater Universe," said co-organizer Maureen Elsberry.
The IUFOC offers a variety of attendance packages. The full-attendance package consists of 5-days of lectures and films, entrance and dinner at the two conference parties and awards ceremony and optional participation in other events for only $199.00 before September 1st. "We are offering the super-early bird rate for the first time this year in attempts to make this event accessible to everyone," said Elsberry.
Take advantage of these extremely discounted rates by calling 1-866-UFO-0110 or by visiting our online registration.
About the International UFO Congress:
The International UFO Congress is an Arizona based organization dedicated to the dissemination of information related to many areas in ufology. It was established in 1991 and hosts an annual conference which is the largest of its kind in the United States. It features presentations given by authors, researchers, experts, enthusiasts, and those who have witnessed paranormal or anomalous phenomena from all over the world. It also provides a forum to discuss the experiences and findings. This event usually has over 20 Speakers, a Film Festival, tons of vendors as well as experiencer sessions. Topics generally covered are abduction, UFO sightings, UFO crashes, crop circles, paranormal experiences, government conspiracy and much more. The conference is produced by Open Minds Production
.