11th Nov 2008
|
by:
Admin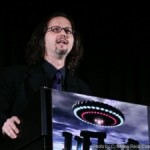 Along with one of the most significant UFO videos of all time that also cover two extraterrestrials were caught on tape in Istanbul 2008!!. This extraordinary incident took place in a compound in Kumburgaz/Istanbul was witnessed by nearly a dozen of residents and filmed by a night guard in summer of 2008 . These are indeed one of the most important UFO/extraterrestrial images ever filmed. The detailed documentation of this most remarkable incident with all the footages and testimonies of the witnesses and the press coverage… The importance of World UFO Disclosure for the future of our planet and humanity as we move into mega Earth changes…
Biography
Haktan's curiosity about the mystery of space drew his interest to this field since childhood and became a part of his daily life. His interest in science fiction books and movies laid the grounds for his research. It has now been 18 years that he has been continuing his scientific research on the subject and participating in worldwide UFO Symposiums. In 1996 he prepared a weekly documentary on UFOs named UFO Reality which was broadcast on two different national TV channels and has also hosted a weekly Radio program about UFOs at Cool FM for a year. Akdogan founded "Sirius UFO Space Sciences Research Centre" in 1998. For about 6 years the Centre has been involved in intensive studies on the subject.
Apart from the Centres studies Haktan Akdogan is continuing to give conferences on the subject both in Turkey and abroad. In order to inform the public on UFO reality Akdogan participated in more than 55 national TV and news programs published numerous articles and has done many TV and radio interviews.
Akdogan is also the founder of the world's fourth International UFO Museum opened in Istanbul Turkey in 2002 He is the co-founder of SIRIUS Publishing House which its primary goal to publish important UFO & New Age related books by world's most important scientists researchers abductees and contactees in Turkish. www.siriusufo.org He is also a member of the International UFO Congress Board of Directors.