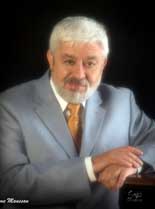 About: A well-established and widely known TV personality in Mexico, Jaime Maussan has become world famous for the incredible quantity and spectacular quality of the UFO videos that he continuously presents to the global UFO community. The modern Mexican UFO wave, along with Jaime's involvement in this field, began in July 1991 during a total solar eclipse, when thousands of Mexican citizens reported and filmed UFOs. This was the event that made the UFO phenomenon a reality to Jaime. Through his Tercer Milenio TV program, Jaime continues to report on UFOs on a regular basis and is one of the hardest-working investigators and reporters in the field.
Web: Tercer Milenio TV
Talk Synopsis: Breaking News
New video technology shows that there are not just invisible UFOs close to us but even invisible creatures. More and more UFOs flying in what it looks like combat squadrons have been recorded around the world. We will present new video evidence of the UFO activity close to big cities like Las Vegas and Mexico City—In Las Vegas an invisible UFO was photographed by different witnesses, and in Mexico City UFOs have been recorded just above the city including near the Volcano Popocatepetl, where the activity continues even inside the crater of a nearby extinct volcano. We will also show the new evidence of UFOs on Mars, the Moon, and even very close to the Rosseta Mission near the comet Churyumov Gerasimenko. They are all around us—seeing is believing.
Date: Saturday, February 21, 2015
Time: 10:30 – 11:45 AM