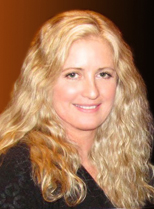 About: Internationally acclaimed UFO Researcher, Keynote Speaker and three time Author on the ET / UFO phenomenon, Kim has been a featured guest on countless TV and radio shows, speaking engagements and magazine and news articles, including: History Channel's "Ancient Aliens", "Coast To Coast AM with George Noory," and CNN's "Inside Man with Morgan Spurlock".
The release of Kim's first book, "Beyond My Wildest Dreams: Diary of a UFO Abductee", nearly 2 decades ago, was a milestone in contact literature. The intense narrative was derived from diary entries Carlsberg made as she endured a sudden and inexplicable relationship with non-human entities that began after a close encounter in Malibu, California in 1988. This event began an 8 year journey of continuous contacts, sometimes 2 to 3 times a week. The prose was complimented by an evocative set of images from illustrator Darryl Anka. The combination portrayed one woman's journey through terror, confusion and loss to an understanding of reality radically at odds with the consensus of mainstream society. Kim's life story was optioned by Tri-Star Pictures.
PROFESSIONAL BIO: A graduate of the "Art Center College of Design" Pasadena, CA in commercial photography, Kim's career as an advertising and portrait photographer has covered all aspects of the entertainment and music industries. She has been commissioned to photograph the most noted celebrities in private sittings, from rock stars to presidents. Her work has appeared in hundreds of publications worldwide including Rolling Stone, TV Guide and Time, and her five year stretch as the exclusive photographer on the TV series BayWatch, brought her the honor of being the first woman accepted into the Hollywood Camera Union.
Kim's newest book, "The Art Of Close Encounters", a compilation work of 150 individual stories of contact, each accompanied with stunning artwork, has been coined "The Quintessential Cosmic Coffee Table Book". It is a favorite in the UFO community with endorsements from George Noory – Host of Coast 2 Coast AM, R. Leo Sprinkle, PhD, Steven Basset – Paradigm Research Group, and many others.
Kim's forthcoming book "Facing Disclosure: The Faces Behind The UFO Disclosure Movement," utilizes both Kim's photographic talent and her position in the UFO community to manifest another beautiful and powerful coffee table book. She is currently traveling the world to photograph the most influential UFOlogist in environmental portraits, giving each the opportunity to answer the haunting question, "What's really going on?"
Kim's business in Sedona, AZ, includes: UFO Vortex, a high-end store front gallery and gift shop, and Sedona UFO Sky Tours, taking skywatchers to UFO hotspots with the most powerful night vision equipment available. UFOs are spotted every time out and sometimes up to 100 craft have been seen at once.
Web: KimCarlsbergBio.com
Talk Synopsis: My Secret Life Comes Full Circle: One Woman's Account of Eight Years of Alien Abduction, and The Effects Withstanding Today
Kim Carlsberg, was not only one of the first women to openly speak about the hybridization program within the alien abduction phenomenon, but went on to powerfully, visually illustrated the depth and complexity of her many contacts, through vivid color, in her first book: "Beyond My Wildest Dreams: Diary of a UFO Abductee", published in 1995.
The result stands unique amid the abduction writings of the time.
There was little known, or written about alien abduction in the 1980's. Pre-internet, researching a subject that was barely known or named, was tantamount to a scavenger hunt. Kim's courage and commitment to uncovering and sharing the truth of her haunting encounters cost her immensely. Striving to maintain sanity in her "normal" life that became battered with extreme heights of anguish, mental exhaustion and sleep deprivation, was monumentally challenging. But with the help of a few close friends, Kim was not only able to manage, but to eventually become one of the most credible witnesses to the most incredible phenomenon on Earth.
Kim's unsought, new life direction was all encompassing. Discovering the origin and purpose to her (and others) intimately close encounters was paramount. Nothing could compete with the idea aliens might be controlling the world, even if it was only her world.
Unwilling to pretend these incomprehensible events were not occurring to preserve the status-quo, Kim became a voice for the perhaps millions of contactees who were living secret lives. As a result, and at the height of success in life and love, Kim's solid and familiar world rapidly slid into demise. Career opportunities were severely compromised, her primary relationship crushed under the weight of alien abduction, routine ridicule by friends, family, and a new-found set of hostile disbelievers crushed her emotionally.
Other sinister forces entered the picture… phone taps… black helicopters… and brutal military abductions.
Upon deep examination of these life altering events, Kim realized that the foundations of life she had grown to understand were actually profound illusions, and our true reality had been intentionally, and masterfully concealed under impenetrable layers of deceit. This sent her on a life-long investigation: who are we, who are they, and what is the purpose of this clandestine communion.
Approaching two decades later, despite the rocky road that now lies behind her, today, Kim appreciates the gifts she has received as a result of her relationship with "the others." The list is long: the rare personal proof that we are not alone, heightened PSI abilities such as empathy, telepathy, precognition and more, a passionate love, respect and concern for, not only precious mothership Earth, but for all life and all beings, physical and non-physical, in this abundantly occupied multi-verse.
And what better knowledge to have received, than to know we humans are being aided in our evolution, by beings who proclaim "YOU ARE US!"
Once "touched" by the contact experience, needless to say, Kim's life was never the same. Even after fifteen years of silence, contact still finds surprising new ways to surface: a late night visitation by her, now grown, hybrid son "Qual'. An invitation to visit a "Cosmic Technology Convention", and learning about hybrid grandchildren.
Recognizing the global, universal and multi-dimensional aspects of "visitation", Kim ventures to paint a more comprehensive picture of the "who" and "why".
Date:Wednesday, February 12, 2014
Time: 1:00 – 2:15 PM