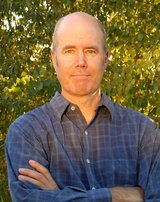 About: Mike Clelland is an avid outdoorsman, illustrator, and UFO researcher. He has written extensively on the subject of alien abductions, synchronicities, high strangeness, owls as well as his own personal experiences. He has had a lifetime of unusual events that seem directly intertwined with the UFO reality. His website explores these events and their connections to the UFO phenomenon in pop culture and mythology. This site also features extended audio interviews with visionaries and experts examining the complexities of the overall UFO experience.
Web: HiddenExperience.blogspot.com
Talk Synopsis:
Owls, Synchronicity, and the UFO Abductee:
Mike Clelland began his study of the UFO abduction phenomenon in 2006 as a way to better understand his own personal experiences. This act of looking unleashed a flood of synchronicities as well as intense owl sightings. These events have been the focus of his ongoing research. Both owls and profound synchronicities seem to play a guiding role in the direct experience of some abductees, this connection points to a deeper reality at play in these mysteries. By looking at these elusive and often ignored aspects of the abduction lore, something truly mystical seems to be revealing itself.
Date: Wednesday, February 12th
Time: 2:30 – 3:45 PM