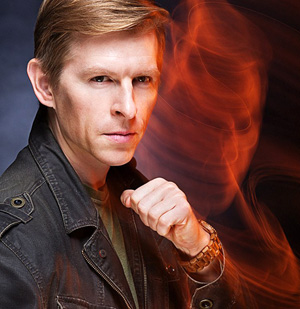 Bio: Reuben Langdon is a Los Angeles-based Actor/Producer/Activist/Truth Seeker and one of Hollywood and Asia's most sought-after martial art/stuntmen.
At a young age Reuben began his career in Japan as a series regular acting in the Japanese superhero TV series B- Fighter Kabuto. He later relocated to Hong Kong to work alongside the most recognizable names in action, including Jackie Chan and Sammo Hung. Eventually he made his way to Hollywood and worked regularly as an actor and stuntman on the international hit show The Power Rangers.
Complimenting his success in the world of film and television, he has performed in and produced numerous motion capture shoots for various video games, most notability the Resident Evil and Devil May Cry franchises. His motion capture Stunt Work & performances have made it to the big screen in Steven Spielberg's and Peter Jackson's, The Adventures of Tintin, and as "Jake Sully" in James Cameron's Avatar.
In 2001, he co-founded Just Cause Productions – a full-service motion capture, 3D animation, production and post-production company with offices in Los Angeles and Tokyo.
In April and May of 2013 Reuben produced The Citizens Hearing on Disclosure, citizenhearing.org, a historical event that brought together 40 witnesses from 10 different countries to testify in front of 6 former members of U.S. congress on the fact that the world is being engaged by Extraterrestrials. To date it is the most concentrated body of evidence and testimony ever put into one place and one time on the Extraterrestrial subject.
In recent years Reuben has turned his noted career as an actor and producer of films and video games to producing and directing spiritual and conscious raising transformational multimedia projects.
Websites: ReubenLangdon.com, CitizenHearing.org
Lecture: Best Footage from the Citizen Hearing on Disclosure
The Citizen Hearing on Disclosure was a landmark event. Dozens of UFO witnesses presented evidence to several former congressmen and women, similar to what would take place during congressional hearings. Witnesses were brought together from all parts of the world. Reuben was a primary founder of the organization that produced the event, and he and his partner, Jeremy Corbell, have edited hundreds of hours of video to make it available to the public. In this lecture, Jeremy will present updates to his work investigating Bob Lazar, and then he and Reuben will present the best moments of the Citizen Hearing on Disclosure caught on video.