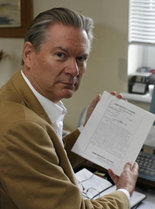 About: Timothy Good became interested in UFOs in 1955, having been inspired by the works of Maj. Donald Keyhoe and Capt. Edward Ruppelt. Now a leading authority, he has researched the subject worldwide and his numerous contacts include astronauts, military and intelligence chiefs, pilots and politicians. He has written a dozen books on UFOs and the alien presence, including Above Top Secret, Alien Liaison, Alien Base, Unearthly Disclosure and Need to Know. Four of his books have forewords by Admiral of the Fleet Lord Hill-Norton, a former chairman of the NATO Military Committee and Chief of the Defence Staff. Good's latest book – EARTH: An Alien Enterprise – is due for publication by Pegasus Books (New York) in November 2013.
He is known to millions through his numerous radio and television appearances and has acted as consultant for several documentaries on the subject. He has lectured at universities, schools, and at many organizations, including the House of Lords All-Party UFO Study Group, the Institute of Medical Laboratory Sciences, the Royal Canadian Military Institute, Royal Naval Air Station Portland and the Royal Geographic Society. He has also been invited to discuss his subject at the Pentagon and at the headquarters of the French air force.
Timothy is also a professional violinist and has played for numerous orchestras since 1963, including 14 years with the London Symphony Orchestra. Composers he has worked for include Leonard Bernstein and Igor Stravinsky. From 1978 he freelanced for concerts, feature films, television commercials and dramas, and for numerous recordings with pop musicians, such as Paul McCartney, George Harrison, Elton John, Rod Stewart and U2. Nowadays he freelances with symphony and chamber groups, as well as for operas and shows.
Web: TimothyGood.co.uk
Talk Synopsis: EARTH: An Alien Enterprise
Due for publication in November 2013, Timothy Good's latest book focuses on little-known contacts with aliens, the infiltration thereof, and Earth's top-secret liaison programs which have led to reverse-engineered spacecraft utilizing alien technology – the better to assist us in dealing with a serious threat from certain other species. EARTH features:-
• Genuine photographs of aliens and some of their craft
• A crashed alien craft and bodies stored in the U.S. Capitol in 1939
• Contacts with military personnel and several presidents
• Over 100 witnesses encounter two landed flying discs in a London suburb
• A U.S. Air Force pilot studies a crashed alien disc on the Mexican border
• Territorial Army soldiers observe two aliens in Scotland
• NATO special forces shown film of a crashed alien craft and survivor
• Injured aliens cared for by military personnel in the U.K. and U.S.
• U.S. Army forces shoot down a space craft in Germany
• Mass contacts, including with scientists, university professors, lawyers, military experts and pilots, some of whom were taught how to fly their craft
• Visits to alien bases described in detail
• The probability of Christ's alien origin
• Encounters with gigantic craft, including one seen over Cambridge by a well-known British journalist and his family
• NASA used as a cover for the real space program, run by U.S. Air Force Space Command
• Witnesses testify to demonstrations of highly advanced U.S.-built spacecraft
• Sinister abductions in the Solomon Islands and Puerto Rico
• Henry Kissinger's alleged role in the alien situation
• Anglo-American special forces encounter a UFO in the U.K.
• Top-secret treaties with aliens in exchange for technology
• Extensive details of alien anatomy and customs
• The alleged abduction of a U.S. Army chief of staff
• The conflict between different groups of aliens, including disturbing details of a long-term hybridization program to colonize Earth
EARTH: An Alien Enterprise is due for publication by Pegasus Books (New York) in November 2013.
Date: Saturday, February 15th
Time: 2:30 – 3:45 PM