Are you interested in becoming a vendor at the largest annual UFO conference in the world?
Table Prices:
Table price includes: 6′ x 2.5′ draped table, 2 chairs and wireless internet.
Electricity outlets are spaced throughout the vendor hall. Please bring your own power strips, extension cord and "Gaffer's Tape" or cord covers to cover any exposed cords.
ONE pass to see speakers is included PER  CONTRACT and is valid for all speaker presentations.  No extra passes are provided for extra tables purchased.  However, you do receive a generous discount for those tables.
Due to the limited number of tables available, not all applications will be approved. We try to limit excessive duplication of similar types of merchandise, and we give preference to vendors with products or services that relate to the subject of the conference.
***INDOOR AVAILABLE TABLES***: SOLD OUT, but check back, as tables may become available, or you can get on waiting list. Optionally,
***

OUTSIDE VENDOR SPACE AVAILABLE

***: There are a few spaces for booths outside. These tables are outside in the elements, so it is strongly recommended you bring a cover/tent in case of rain. These tables will not be able to be moved to a covered area. In the event there is rain the majority of the day, vendors in these spots will be refunded $65 for the day, not to exceed the entire vendor booth cost. Vendors are also responsible for their own security. A security guard does monitor the area, but since these booths are not behind locked doors, and are outside in the dark overnight, there is a greater risk if products are left outside unattended overnight. The conference organizers will not be held responsible for damage or theft due to items left unattended.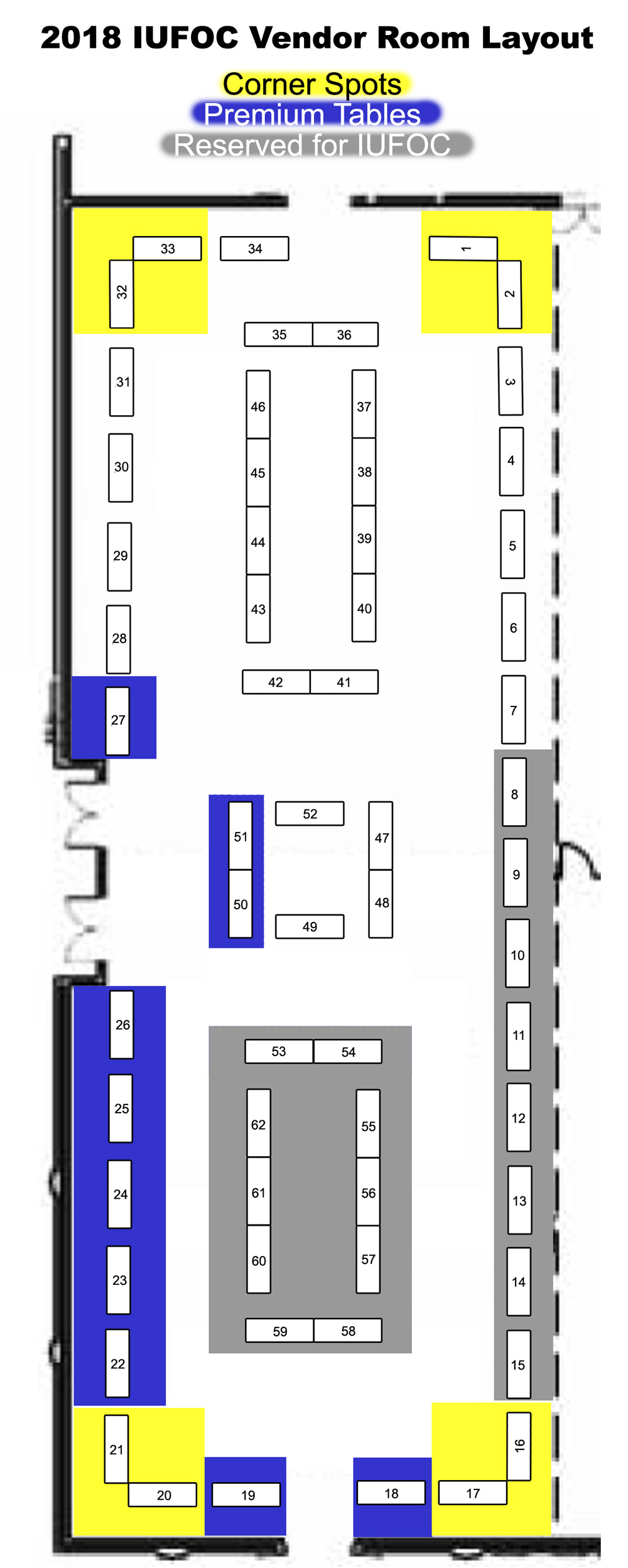 VENDOR TABLE PRICES

PURCHASE DEADLINE:
Feb. 3
One Table Space: Premium
$475
One Table Space: Regular
$425
2 table Corner/Two Table Spaces/10×10 Booth: Premium
$850
Two Table Spaces/10×10 Booth- Regular
$750
Additional Table: Premium
$375
Additional Table per single vendor
$325
Outside Vendor Space
$325
Premium tables:
Blue
areas
Regular tables:
White areas
Corners:
Yellow
areas
Tables in grey shaded area not available.
One Speaker Pass is included with each vendor contract.  Additional table price only applies for single vendor and does not include an additional speaker pass.
Exhibitor Information
We will be hosting our annual convention at the We-Ko-Pa Resort in Fountain Hills, Arizona. We are offering Early Registration Rates for Vendors who pay in full prior to October 1, 2016.
The Exhibit Room is 6,000 square feet, and is adjacent to the lecture hall, which has a seating capacity of 1,200. (We average over 1500 Attendees throughout the week.) Most breaks between speakers are scheduled to be 15 – 30 minutes, and the lunch breaks are scheduled to be 60 minutes. There is a snack bar in the reception area. The Exhibit Room opens 1 hour prior to the first presentation in the mornings, and stays open through most evening dinner breaks. This allows our attendees time to visit the exhibits.
The Exhibit Room will be open for set-up on Tuesday, February 13th from noon to 6:00 p.m. Vendors must be packed up and out of the room by 7 p.m. on Sunday. Please note that vendors are required to be set up and open for sales during all hours the Exhibit Room is opened to the public. The room will be open to the public as follows:
Wednesday, February 14: 8:00 a.m. to 6:00 p.m.
Thursday, February 15: 8:00 a.m. to 7:00 p.m.
Friday, February 16: 8:00 a.m. to 7:00 p.m.
Saturday, February 17: 8:00 a.m. to 6:00 p.m.
Sunday, February 18: 9:00 a.m. to 3:00 p.m.
To be sure that all vendors are aware of the various guidelines and procedures for the event, we have outlined them on the Exhibitor Registration and Agreement Form which will be completed and submitted with your registration. (We recommend making a copy to keep for your records, should you have any questions after you mail it to us.)
 ARIZONA TRANSACTION PRIVELEGE TAX: If you are not already registered with the Arizona Department of Revenue, you will need to do so prior to arrival. You can fill out a business registration online at www.aztaxes.gov under the business registration section. Each Vendor must comply with Arizona tax laws in order to sell goods/services at the Exhibitor Room. We are not responsible any individual Vendor's payment of sales tax. You can contact Arizona taxpayer information and assistance at 1-800-352-4090 if you have any questions.
Due to the limited number of tables available, not all applications will be approved. We try to limit excessive duplication of similar types of merchandise, and we give preference to vendors with products or services that relate to the subject of the conference.
 The last day for Exhibit Room registration is February 3, 2017 at 1:00 p.m. Mountain Time.
Hotel rooms at the host resort are $125.00 per night, plus tax, and are the same price for single or double occupancy. Rooms must be booked by calling 480-789-5300 and you must mention the UFO Conference to receive the discounted rate. Space is limited. Other accommodations are available in the area; visit ufocongress.com for more information. Wednesday Evening Party tickets are available for $49.00 each, and Saturday Banquet Tickets are available for $69.00 each. There is a drawing for door prizes at the Wednesday Evening Party. Vendors have the option to donate items from their booth, and their company name is announced when the prize is awarded. These are voluntary donations, and not a requirement to be a vendor.
CONFERENCE EVENTS PRICING
Wednesday Night Party Tickets: $49.00 (Wednesday Evening)
Awards Banquet Tickets: $ 69.00 (Saturday Evening)    
Additional Speaker Passes: $209 before Oct. 1, $249, after Oct. 1, $289 after Jan. 28        
Reserve your vendor space:
To reserve vendor space, use the contact form to indicate your top 3 choices by specifying the table number and quantity of tables needed.  For example, if you want 2 regular tables, submit 3 choices of 2 table groupings, such as 1st choice: 3 & 4, 2nd choice 30 & 31 and 3rd choice 44 & 45.  We will try our best to get you the location you request. Be sure to check the updated roster of available tables before completing contact form.  Tables will be assigned in order of requests received. In addition,  indicate the number of extra speaker passes (vendors receive 1 per contract), and Wednesday party and Banquet tickets needed (INDICATE WHETHER REGULAR OR VEGETARIAN). Upon receipt of your request, we will assign your table/s, and send you back a registration form to sign and remit with payment.  Payment instructions will be indicated and include Paypal, credit card, and check.  Payment for early bird registrations need to be received by October 1, 2017.  After October 1, 2017 until February 3, 2018, payment needs to be received within 2 weeks of confirmation, or by February 3, 2018, whichever comes first.

---